Do you want to know how long it takes to get a welding certificate? It varies depending on the school, but typically it takes around one year to complete the program. That's why it's so important to choose a school that is accredited and has a good reputation. The American Welding Society (AWS) is a great resource when it comes to finding welding schools. They are responsible for setting the standards for welding education and certification.
Getting on an accredited welding program
Welding is a versatile and lucrative trade that can offer many opportunities for career growth. However, in order to become a certified welder and start working in the industry, you will need to complete an accredited welding program. These programs typically last between one and four years, and will prepare you to pass the AWS welding certification exam. Once you have passed the exam, you will be able to find welding jobs all around the country.
1 year – getting into a technical school
The process of becoming a welder can vary depending on the route you choose. The quickest way to become a licensed welder is by attending a welding technical school and earning a welding certificate. This type of program will focus solely on what you need to know for a career in welding, and typically takes less than a year to complete. After finishing welding school, you should be adequately prepared to pass the test required to become an AWS Certified Welder.
2 years – getting an associate degree
There are a few different ways to go about getting a welding certificate. You can attend a community college and earn an associate degree, or you can attend a technical school and learn the skills needed to become a certified welder. Whichever route you choose, make sure the program you select is accredited by the American Welding Society (AWS). This will ensure that you receive the best possible training and education.
3-4 years – Start as an apprentice
Welders are in high demand, with a welding certificate you can find a job in this field. The length of time it takes to get a welding certificate depends on the program you choose. There are many programs available, but the most common way to become a welder is through an apprenticeship.
An apprenticeship is a 3-4 year program that provides hands-on and classroom training. You'll work alongside an experienced welder and receive a wage while you're in training. The programs focus on a specific welding job such as pipefitting, ironwork or boiler making. When you complete your apprenticeship, you'll earn a journeyman's card that can make you more qualified for a job or entitle you to a higher salary. If your apprenticeship is through an employer and you do an excellent job, there's a good chance they'll offer you a full-time position.
4+ years – bachelors degree in welding
If you are interested in pursuing a more advanced certification, you may need to pursue a bachelor's degree in welding. This will give you more in-depth knowledge of the science and engineering behind welding, and will prepare you for more specialized roles in the field. Depending on the program, you may also learn about computer-aided design, robotics, and other advanced tools used in welding. Typically, this type of degree will take 4 years or more to complete. However, with hard work and dedication, you can become a licensed welder in no time.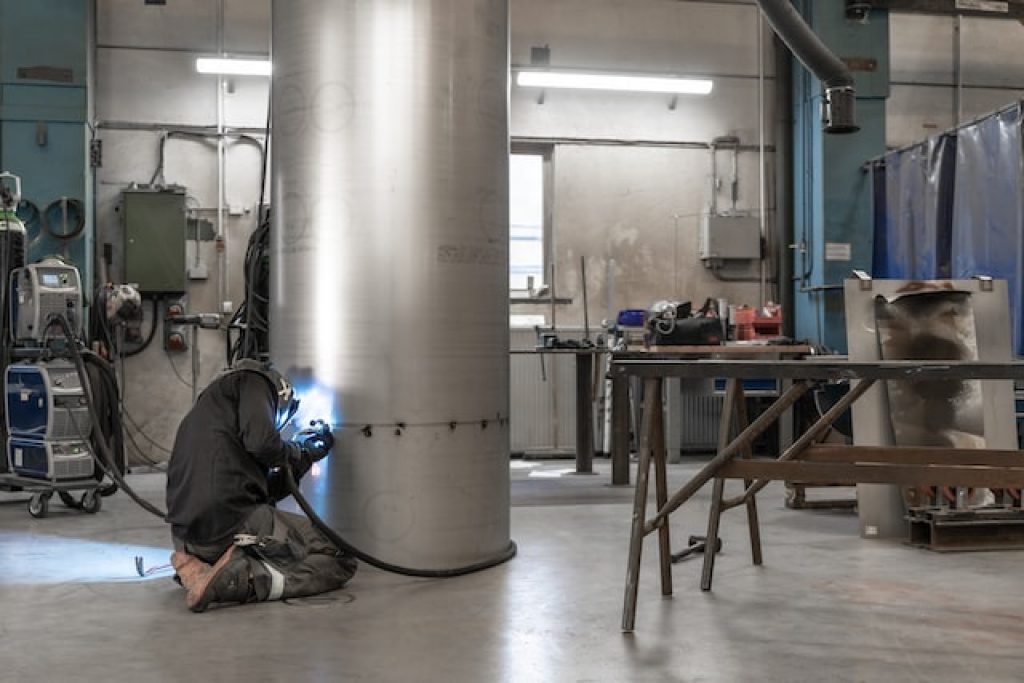 Can I weld without a certificate?
Employers often prefer applicants who have certification, as it indicates that they are knowledgeable and skilled in welding. Certification can also lead to higher salaries and better job opportunities.
Welders who are certified have a competitive edge over those who are not. Certification shows that a welder is dedicated to their craft and is willing to put in the extra effort to improve their skills. It also demonstrates that a welder is knowledgeable about safety guidelines and industry standards.
Obtaining certification can be a challenge, but it is worth the effort. The welding community is supportive and there are many resources available to help you become certified. There are also many welding schools that offer certification programs.
If you are interested in becoming certified, do your research and find a program that fits your needs. There are many different types of certification programs available, so choose one that meets your specific needs. Becoming certified is a great way to improve your skills and knowledge, and it will help you succeed in the welding industry.
What are the legal requirements to weld in US?
Welders need to comply with the specific requirements of the state or local municipality in order to legally weld. Requirements may include welding certification from a recognized organization such as AWS, as well as specific licensing or permitting. Some states, like New York, require welders to be certified by both the AWS and the state department of transportation.
How are welding position classified
There are four position types and two weld types identified by a coding system consisting of numbers and letters. These are as follows:
| Welding symbol | Placement of test pipe | Welder placement | Position of weld |
| --- | --- | --- | --- |
| 1 | horizontal pipe not fixed | Welder is stationary | Top of the pipe |
| 2 | vertical pipe fixed | Welder must move around | Horizontal weld |
| 5 | horizontal fixed | Welder must move around | Weld from above, below, both sides |
| 6 | 45 degree and fixed | Welder must move around | Weld using both hands |
| R | | restricted position | |
| F | | Fillet weld | |
| G | | groove weld | |
How much does getting certified cost?
AWS certificate
AWS welding certification can be quite expensive. The initial CWI exam costs $1100 for AWS members and $1335 for non-members. However, once you've been certified, your CWI certification is valid for 3 years. (as of 2022)
The cost of CWI certificate sets you back $545 or $800 if you're a non-member. However, the benefits of having this certification may be worth the investment.
6G welding certification
The cost for 6G welding certification can vary depending on the provider. The American Welding Society (AWS) charges $55 for members and non-members for each certification, plus the applicant must pay for the cost of testing.
ASME IX Standard / BS EN ISO 9606 Standard
ASME IX covers the qualification process for welders and welding operators, as well as procedures on how to braze metals together. Metals that can be worked with include but are not limited to: steel, copper, nickel aluminum titanium and zirconium alloys) oxy-gas, arc power beam resistance and solid phase welding processes can also be used.
The certification takes 1 day, and costs around $600 per assessment and test