Just caring about specializing in carrying out the welding works and compromising health is slightly more than unfair. On our hunt to find quality welding gloves we have RAPICCA 16 Inches as the Best Welding Gloves which are not just going to save you but will also provide you with an edge over others in terms of skills.
It's you who knows the most about the dangers of these sorts of works. All kinds of preventive measures are requisite to be taken, so it's reasonably necessary to equip yourself with one of the substantial safety components-the welding gloves.
Leaving your hands undefended to Extreme flames, burns, UV rays, electric shocks, cuts, et cetera must not go on for long with the presence of the Best welding gloves in 2021.
Some welders make use of regular and other types of gloves that are below par. It requires a thorough knowledge of the welding gloves' features before you can just get into the online sites and stores for the purchase.
Our compilation of the welding gloves with some necessary buying instructions will really be futuristic. Just scroll to get in some valuable chunks of information.
Top 10 The Best Welding Gloves
IMAGE
PRODUCT
DETAILS
Price

Our Top Pick

RAPICCA 16 Inches
Material: Cowhide Split Leather
Finish: Double Layered Padding
Features: Heat Resistant

Professional

Lincoln Welding Gloves
Material: Cowhide
Color: Black & Red
Features: Superior Comfort

Budget Pick

MAGID TRX848L
Material: Leather
Value: For Professionals
Features: Flame Resistant
KIM YUAN Extreme
Material: Cow Leather
Usage: Metal cutting
Features: Wide Range Application
US Forge 400
Material: Leather
Finish: Cotton lined for comfort
Features: Heat Resistant
Caiman 1878-5
Material: Leather
Finish: Heavy Duty Padding
Features: Reinforced Palm
John Tillman MIG Gloves
Material: Leather
Finish: 4" Cuff for added protection
Features: Cowhide palm
Steiner 21923-L
Material: Full cotton lining
Finish: Reinforced thumb strap
Features: Fully welted
1338M Goatskin
Material: Leather
Add On: Comfortable
Features: Protective Glove
NKTM Leather
Material: Leather
Color: Blue
Features: Flexible Design
Best Welding Gloves
1. RAPICCA 16 Inches Welding Gloves – Best Overall
Manufactured By RAPICCA
Item Weight 1.15 Pounds
Dimensions 9.5 x 7 x 2 inches
Material: Genuine Cowhide Split Leather and Insulated Cotton with Air-isolated Aluminum Foil
Special Features: Extreme heat resistant, Oil resistant, Cut resistant, Puncture resistant, Cold proof
Product Description
The physical appearance and the gloves' inner upbuild made it inevitable to place the Rapicca's gloves in this list. It's made up of the ideal material, leather, that most of the customers prefer.
These 16-inch blue colour gloves aren't that easily avoidable. The double kevlar layer is more than enough to ensure the safety of your fingers, palms, elbows, etc.
Likewise, the air isolated Aluminium foil and flame retardant thread add to the heat resistant property. These features really make it dexter for the welders to weld at extremely high temperatures without suffering any irregularities.
Design & Construction
Furthermore, the quality of Rapicca gloves is uniform and sturdy. The cowhide leather is just incomparable. The unlimited work won't be tearing them off. You'll always find it showing resilience to heat and sharper objects.
These imported gloves will surely be keeping your anxiety and your infuriating character away from you. Just focus! And work with complete zeal. This is our top pick for best welding gloves.
Best Stick Welding Gloves
2. Lincoln Electric Stick Welding Gloves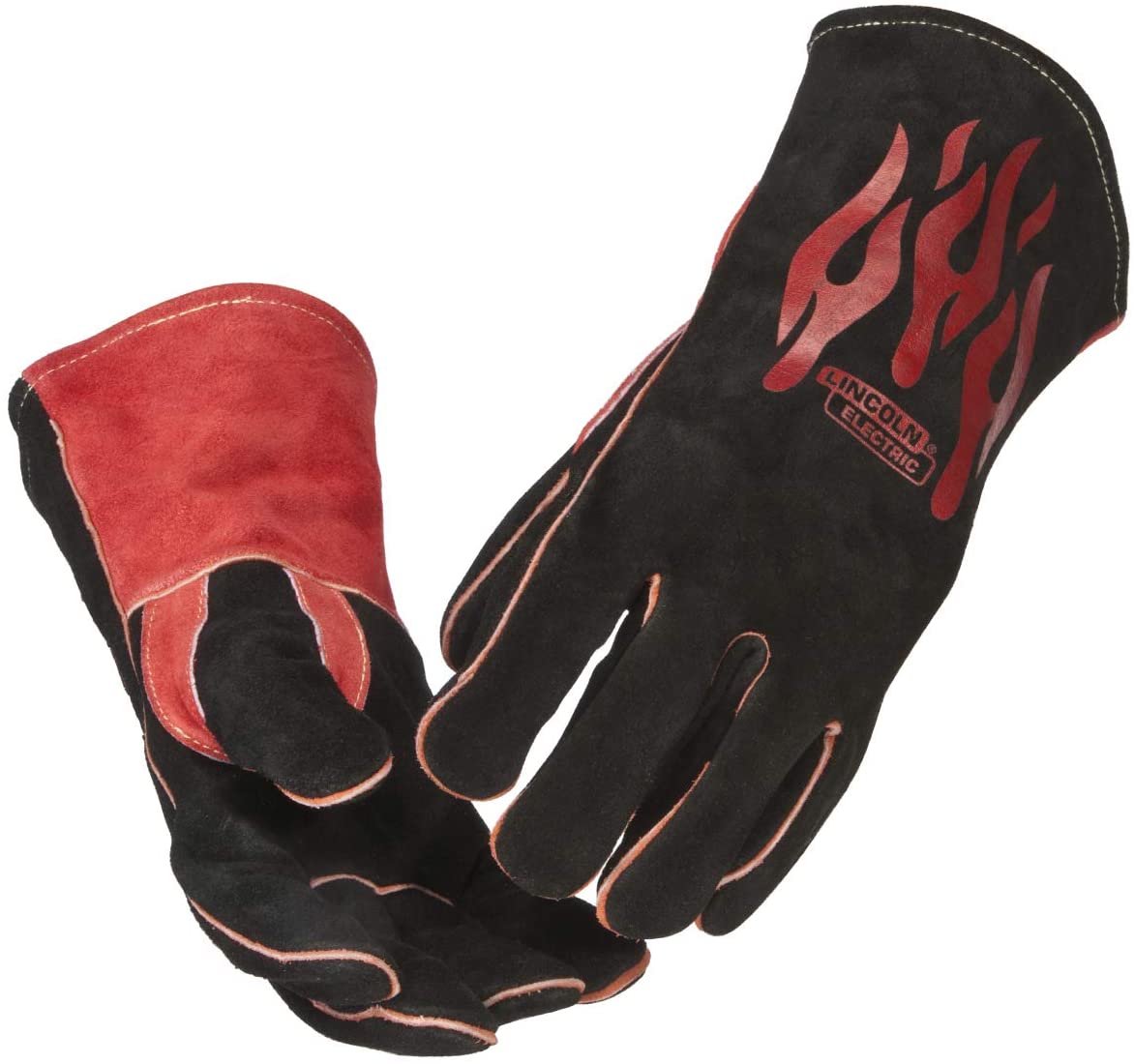 Manufactured By Lincoln Electric
Item Weight 12.2 ounces
Dimensions 13 x 7 x 1 inches
Material: Cowhide
Special Features: Mig-welding Support
Product Description
Lincoln electric is a very experienced company that aces the manufacture of its products. Similarly, its welding gloves are indeed structured really well.
The black and red colour well-defines its look. On the other hand, it shouldn't be disregarded to say that these gloves are precious.
The gloves were brought into existence using cowhide material that's quite typical in resisting heat and temperature. Additionally, the gloves keep all sorts of harm out of your reach. This makes Mig and stick welding safer and more straightforward.
Design & Construction
Endurance is the main aspect everyone must look for. The thick layer of the leather exterior with imperative inner linings and Kevlar reinforcement let it last long. These are those central essentials that ride out all the hazardous occurings.
Lincoln cares for you. It's evident with these stick welding gloves manufacturing that aims to provide absolute comfort to the users. The soft cotton lining and the appropriate design keep the pain and further issues out of the equation – the work.
Best TIG Welding Gloves
3. MAGID TRX848L Inferno Series TIG Welding Gloves
Manufactured By Magid Glove & Safety
Item Weight 8.42 Ounces
Dimensions 10 x 5 x 1.6 inches
Material: Leather
Special Features: Gunn cut pattern increases comfort
Product Description:
The Magid 27 dollar pair is worthy of being regarded as one of the best welding gloves. It's rightly appreciated because of its super immense specs.
The Magid TRX848L exists in several sizes, making it reliable for both small and more significant hands.
You May Also Like Flux Cored Arc Welding
Additionally, it has been built up through goatskin leather. So there lies the assurity of endless comfy and adroitness while welding work. Moreover, the pyramid blend lining confronts the resistance offered during work.
Design & Construction:
The Gunn cut structure and the Gauntlet cuff enhance the relief and assures protection, respectively.
One of its quintessential specs is its Flame resistant Defense system. This meticulously keeps the effects of the heat, flame, and UV rays far out of the domain of the welder's hands. It'll be one of the best nominations despite its mainly white color. These are our best TIG welding gloves.
4. KIM YUAN Extreme Welding Gloves Reviews
Manufactured By KIM YUAN
Item Weight 11.5 ounces
Dimensions 16 x 7 x 1.3 inches
Material: Cow Leather
Special Features: Prompt Metal cutting
Product Description:
KIM YUAN's production is none less than the others. These pairs of gloves are really extricating in terms of letting you give the good welding output with safety. It'll be your best assistant while welding and other regular works as well.
Kim Yuan's gloves are incorporated with all those necessary features that fulfil the most crucial objective of safe-keeping hands. The Cow leather manufacture with a thickness of 1.2mm is substantially advantageous.
Design & Construction:
This material has the potential to withstand high temperatures and heat. Any type of instability while work has been blocked off to get its access to your hand. Neither harm can't affect its double kevlar stitching and cow leather material.
Additionally, the softer inner part, denim jean materials for cuffs, and cushion palm is the user's interesting zone. These gloves lure the welders due to their intensified solace and longevity.
The versatility of the gloves and their wide range of applications is another factor of its higher rating and sales. This pair of black gloves contains all to let you relish your work.
5. US Forge 400 Welding Gloves – Best For ARC Welding
Manufactured By US Forge
Item Weight 11.2 ounces
Dimensions 13 x 5.5 x 0.5 inches
Material: Leather
Special Features: Heat Resistant
Product Description
If you are really disgusted with your working harshness, you must prefer US forge Gloves to eradicate it. It's not just the best welding gloves for money but even lies high on the list when the features have mattered.
Also Check Best Miller TIG Welder
This pair weighs just 11.2 ounces and is available in 14 and 16 inches. So these are renowned for serving as the best welding gloves for larger hands.
Design & Construction
Its foundations have been made solid with the use of high-quality leather. The cotton lining and the fantastic stitching work evade all sorts of upcoming welding threats.
As far as flexibility is concerned, there implies no other opinion contrary to this. Along with being a console, it ensures absolute safety for Mig and Stick welding due to its thickness.
Every bit of US 400 is a blessing for a professional welder.
6. Caiman 1878-5 Deerskin Welding Gloves For Stick
Manufactured By Caiman
Item Weight 1 pounds
Dimensions 22 x 8 x 12 inches
Material: Leather
Special Features: The following is made in lieu of all warranties, expressed or implied.
Product Description:
Caiman's innovation has been highly productive. It is the first 21-inch glove that incorporates Kontour design. This sort of three-dimensional structure gained fame and ought to be reckoned as comfortable and flexible.
This variant of gloves has been influential for the Caiman, opening up the route to their success.
The gloves exist in a combination of gold and black colors, weighing 1 pound on the whole.
Design & Construction
Moreover, the overall formation of the gloves constitutes upon the idea of Kontour design. The Boarhide leather heat shields against all heat and extreme temperatures. With that, the reinforced palm and cuff further reduces the probability of getting hurt.
The layout has been so meticulous that it fits most of the hands and offers no stiffness. Besides this, it eases the task, increases efficiency, and allows swift and quick movements.
The experience of Caiman in the shape of gloves will be a treat to take full advantage of. It might be a little costly, but it's worth all the pennies you pay.
Best MIG Welding Gloves
7. John Tillman Top Grain Leather MIG Welding Gloves
Manufactured By John Tillman & Co
Item Weight 11.7 ounces
Dimensions 14 x 6 x 2 inches
Material: Leather
Special Features: Cowhide palm
Product Description:
It's one of the best Mig Welding gloves. Again, Tillman is a productive brand that looks forward to reaching user satisfaction. This Co 50XL is proof of its sublime manufacturing.
Further, it is revealed that for better finger movement and ease in the specific task, the forefinger is seamless. Also, to maintain the gloves' original form product's quality for an extended period, DuPont Kevlar has been used.
Thus, it can bear all sharpness and harshness exerted by the flames, heats, temperature, and other substances, elements, and objects.
Design & Construction
The cowhide is the primary material used by the manufacturers for these gloves. For instance, the top grain cowhide palm and split reinforcements are the main elements of safety.
Furthermore, the fleece lining and the 4 inches cuff corroborate in letting past the welding assaults.
These gloves are 14 by 6 by 2 inches. Therefore, it fits the majority. It is indeed one of the best MIG welding gloves for the money.
Best ARC Welding Gloves
8. Steiner 21923-L ARC Welding Gloves
Manufactured By Steiner
Item Weight 1.15 pounds
Dimensions 6 x 1 x 1 inches
Material: Cotton
Special Features: Warranted to be free from defects in manufacturing only
Product Description:
These dark orange-coloured gloves are unrivaled. One of the most noticeable features is its size. It's 23 inches quite astonishing. Here it is the biggest of all on our list.
Like many others, it is integrated with such specs that it can withstand nearly every possible adverse condition. The main material used for its construction is cotton. Cowhide leather is the other material added for perfection.
Design & Construction
Therefore, split cowhide leather blocks the routes through which heat and other rays and elements can affect the user's hands. Likewise, cotton lining firms the stitching and provides comfort and adroitness on its full. Additionally, the reinforced thumb strap will add to the effectiveness of the gloves.
From high-quality insulation to super elastic customer service, you'll just relish all.
9. 1338M Goatskin by Tillman – Best TIG Welding Gloves
Manufactured By Tillman
Item Weight 0.16 ounces
Dimensions 12 x 6 x 0.8 inches
Material: Leather
Special Features: Protective Glove
Product Description:
Another Tillman addition to the list! These gloves account for being one of the best Welding gloves for Tig welding.
This brown and white pair of gloves is really lit. There's no doubt that white color isn't suitable for welding works, but as far as its appearance matters, it's classy. So there's both a negative and positive point for its appearance.
Design & Construction
We must be much more insightful towards the quality rather than appearance. The Top grain goatskin use is quite evident. It'll indeed be of long-lasting quality as well.
The gloves have a 4 inches cuff to extend, which keeps your hand secure. Numerous users prefer these gloves due to the flexibility it offers. It is top-notch when it's up, ready for use.
Additionally, the glide patch and the reinforced straight thumb are scintillating. They increase the resistance and further firms the grip.
Select out the size of your own will and resume your welding works with just the investment of approximately 15 dollars on your safety.
10. NKTM Leather – Best Gloves For TIG Welding
Manufactured By NKTM
Item Weight 1.15 pounds
Dimensions 9.5 x 7.1 x 2.1 inches
Material: Leather
Special Features: Flexible Design
Product Description:
The NKTM Mig and Tig welding gloves are the classic defenders against the sharpness of the situations. These yellow and blue coloured gloves are produced from cowhide leather.
By the way, the inner cotton lining with the double leather layer on fingers and palms won't be compromising at all. These gloves really prove treasures, used to cope with multiple tasks, including Mig and Tig welding.
Design & Construction
The reinforced palm and the hand cushion eases out the task, further certifying the comfort zone. The gloves are indeed highly resistant, but it's crucial to take further preventive measures.
All welding gloves may be the best resistor of heat and temperatures but are eventually distortable. The cowhide leather makes these gloves surpass all sorts of damage. More important is that it lets the user withstand possible flame and heat upraise.
So be quick to have it under yourself.
The essentials to look for before buying Best Welding Gloves
The simple principle that you must always be mindful of during the purchase of any product is that their appearance can be deceiving. It's million-dollar advice. Trust me! The look won't determine the quality of the product, but what matters is their specs and features. So be vigilant with some of these mentioned above:
Material:
The material used for the welding gloves must be highly resistant against sparks, high temperatures, and heat. Proper insulation is a fundamental requirement. Various materials, most likely leather of different characteristics, are used to shape up the gloves. Let's check out some:
➔ Cowhide:
It's one of the most popularly used ones for manufacturing purposes—the calmness you need while work is easily achievable through Cowhide gloves.
You need not distress yourself or think about the dangers as Cowhide is one of the best means to avoid sparks while keeping up with the comfort zone.
But the single negativity that roams around is that it isn't the best choice for Tig Welding.
➔ ElkSkin:
This is one of the best sources against heat and high temperatures. If you are looking for the best stick welding, then you must go for Elkskin gloves.
➔ Goatskin:
Goatskin is one of the most considered materials. This is because of its specialty in easing out the tasks. Picking it up for the Tig welding will be an absolute cracker of a decision. Along with the long-lasting feature, it even consolidates its place for being sleek, lightweight, and impenetrable.
➔ Deerskin:
Just like goatskin, it also makes the work look straightforward. It is also one of the superlative materials used against heat and fire burns.
Ease of use:
Look out that the gloves you have chosen are offering you dexterity. It may depend upon the glove's material. You can even determine it from that aspect. Moreover, it should be smooth and flexible rather than being stiff. This will let you finish your task quicker with improvements.
Stitching:
For stitching, a couple of threads are famous. The Kevlar thread is reasonably firm and much better as an option in comparison to cotton threads. Kevlar threads keep the hazards away, as it is one of the best competitors against sparks, heat buildups, and temperature effects.
The better the stitching, the better the stitched seams, the more your investment for welding gloves will last as your glove won't easily break apart.
On a concluding note, Kevlar will be more worthy than cotton or any other stitching material.
Rates
The currency notes that you'll withdraw from your pocket for purchasing the gloves must not be wasted. Investing it rightly is your aim and the foremost objective.
The range of gloves can vary between $10 to $40. The rates are dependent on brand names and even on the material. Deciding on the factor that the lowest value gloves will be of poor quality and the average value or the topmost value will be the best ones isn't justified.
Our top 10 welding gloves and the buying guide collectively will be clearing numerous concerns of yours. So create your own idea and then make the best of the best decision.
Also Check Best Welding Blanket
Concluding – Best Welding Gloves
Our effort will surely be letting you ace your purchase. Every essential is now mentioned out here. Now it's your turn to examine the welding gloves in the right way. So hope the dollars you spend will prove worthy. Don't forget to choose among the welding gloves depending on your need.
Welding Gloves Questions
1. What gloves do welders use?
For welding purposes, it's necessary to inculcate in mind that the best material used for the up building gloves will serve them the longest and the best. So, welders choose gloves according to their task difficulty. They regard the best welding gloves mainly made up of cowhide, goatskin, and premium leather. Various characteristics of different types of gloves of varying companies are the center of their interest.
2. How do I choose welding gloves?
It's crucial to determine which sort of gloves will suit your working activities to ace the purchase. Picking the best gloves for your convenience is directly proportional to the success of the purchase. For instance, the Tig, Mig, and Stick welding requires extreme care to be taken, mainly of your hands. So choose the perfect gloves which are of appropriate material and are up with all the features that add to its efficiency. Our buying guide further explains this.
3. Can you use TIG gloves for MIG welding?
Yes, it seems absolutely perfect to do so in some cases. For the case of Mig welding on smaller parts, it requires pinpoint precision. So, the use of Tig gloves will be seizing for this cause. Mig gloves are a little stiffer than the Tig gloves, which cause hindrance in the finger movements. On the other hand, Tig gloves aren't too resilient to extreme heat and temperature.
I'm Robert Steven with more than 10+ years of experience in the welding field, I have done my welding degree from Central Louisiana Technical Community College, it was always fun and passion for me going into welding. Now being a passionate welder I also blog about welding.