As a welder, you are either working in your garage or on an industrial-scale project. Whenever radiations and sparks are involved, there is always a need to protect your skin from making any contact.
Welding Helmets are a necessary piece of equipment in which welders invest quite some money. After using all of these helmets I have selected YESWELDER Solar Welding Helmet as the best welding helmet. This will not only fill the need but improve productivity as well.
Moreover, Let us guide you through the top 8 best helmets available in the market suitable for your welding processes. Whether you require a helmet that can fit your budget or something more advance, you have it here!
Which Type Of Best Welding Helmet You Should Choose ?
Auto Darkening Lenses are the most prominent go-to in the market these days. Your helmet automatically detects light and blocks it out during the welds.
So rather than flipping your helmet all the time to work and view, you can just get an Auto-Darkening helmet that automatically detects light and adjusts the shade of your lens.
They have Adjustable shades, which give you a choice to use whatever shade you prefer during welding. Not every helmet in the market has an auto-darkening feature, so before buying a helmet, you have to make sure that it has an Auto-Darkening lens in it.
8 Best Welding Helmets
Best welding helmet
YESWELDER Solar Auto Darkening Welding Helmet – Overall Best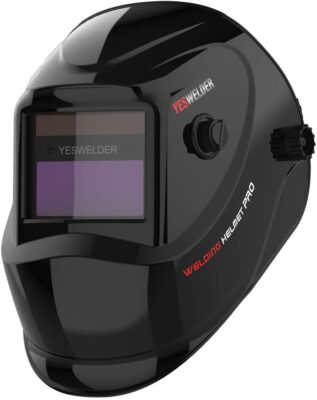 Our best overall pick on this list is the YESWELDER Auto-darkening welding helmet. The YESWelder is known for introducing helmets that have superior technology, and this product is one of a kind as it is the best-rated welding helmet currently.
It is Auto Darkening Lens provides a clear and steady view when you are welding. It has a viewing scale of 3.64 x 1.67 inches that gives a welder a much broader and better glance at their work.
Furthermore, with such a wide viewing area, the helmet has two premium sensors that improve the clarity by detecting light much faster. This pick is undoubtedly the best-rated welding helmet for its design and manufacture.
via yeswelder
Check Prices of Product
and find best price for your needs
Features
One of its main features is its True Color Technology. The True Color technology increases the visibility and clarity in work, and the original color it provides reduces eye strain making your work longer without tiring you.
The True Color technology removes the traditional lime green view in the helmet and gives it an original look. This welding helmet on the market has a big following because it leaves no space for making your welding more challenging for you.
The Welding Helmet is very lightweight and comfortable to wear. A Good Welding helmet will always have lesser weight, so you can work longer without getting tired.
What are customers saying?
"This is a very light weight welding helmet. The auto darkening works well. I use it most for wire welding, but would think the clear plastic shield would get pitted badly with the sparks from a stick welder."

— customer quote
Positive
Accurate color technology for better clarity
Lightweight and comfortable to wear
Wide field of view
Negatives
It only has two premium sensors
via amazon
Check Prices of Product
and find best price for your needs
Lincoln Electric K3034-4 – Best Auto Darkening Welding Helmet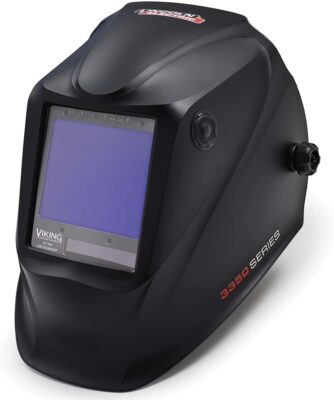 If you want to produce the best welds, The Auto Darkening Helmets are the way to go. They make welding so much easier and productive. If you are looking for one, then let us talk about the best Auto Darkening Helmet in the market.
The Lincoln Electric K3034 is known to have the highest positive auto-darkening welding helmet reviews. Not only external comments, but our own experience suggests the same as well. Welding becomes so much clearer with the 4C lens technology in Lincoln.
Features
The 4c Lens technology creates a crystal clear field of view for you to look at your welding arcs and puddles. This technology gives you more control over your welding, and the quality of your welds increases by ten folds
When Working, you will find consistent brightness in your vision to enhance the visibility while removing any distortion in the vision.
While you work, there won't be any chance of getting an eye strain as your view of work would be crystal clear. The lens has a 1/1/1/1 optical clarity which removes all kinds of blurriness.
The Lincoln Electric provides a vast field of view as it has a 12.5 square inches large auto-darkening lens which offers a broader field of view, making work even more productive. And with all these fantastic features you also get comfort in your career.
Also Check Best Welding Helmet Under $100
The helmet's weight is distributed across six contact points which improves balance removing any sort of pressure on the head.
You can also switch in between weld and grind modes through an external button without removing your helmet, which increases your work rate and saves time.
With such a vast amount of features in 250 dollars, this is the best auto-darkening welding helmet for the money.
What are customers saying?
"The reaction time is very fast. Light years beyond my old auto dim welding helmet."

— customer quote
Positive
Wide viewing area
4C Lens technology
Comfortable to wear
Antra Wide Shade Range – Best Budget Welding Helmet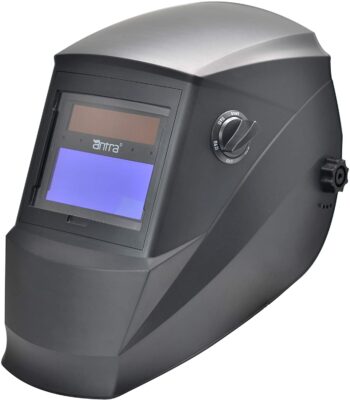 Are you looking for an Auto-Darkening Helmet that is good and also fits your budget? Don't worry, and the Antra Wide Welding Helmet has got you covered.
It is a fully automatic auto-darkening welding helmet that eliminates the necessity of flipping your helmet up during your welds.
This cheap welding helmet is light in weight to not have any stress on either your head or your neck. You can work with ease for hours with no pain-producing quality welds.
The helmet is loaded with a passive filter that will always protect you from harmful ultraviolet rays. It also has a double-layered auto Dimming LCD shutter that provides a good shade range.
The helmet fulfills all the safety standards covering your head and your neck from harmful radiation.
Features
What we love about this helmet is that it comes with four premium sensors. With four sensors, your helmet will always be highly responsive and will detect light in a matter of milliseconds providing super-fast switching.
Light detection will also be super accurate with four sensors, so auto shading will always be beneficial, and you won't have any sort of eye stress while working. On a low budget, you are getting for yourself a very reliable welding helmet.
It is nowhere sensitive to sunlight which minimizes false triggering. This feature is because of its interference suppression technology that makes the helmet very responsive to arc welding.
What are customers saying?
"It works, it's easy to adjust, (maybe too easy) and it always plops down to the same place when you nod your head to start welding."

— customer quote
Positive
It has eight shade levels
Low price
Auto shading
3M Speedglas – Best Welding Helmet For TIG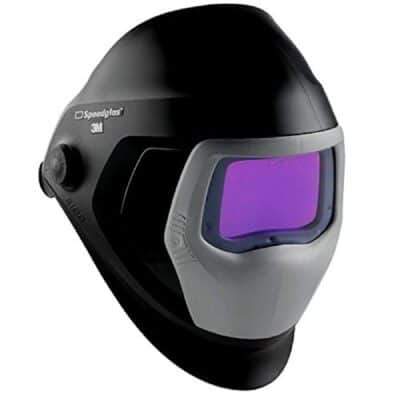 The 3m Speedglas TIG welding helmet is a unique piece of perfect equipment for all sorts of welding. It provides fast and easy access over controls and different modes.
Features
The best feature about the welding helmet is its side windows that give the welder such a large field of vision which makes obstacles, dangers and work much more visible.
One of its impressive qualities is the reduced lime green vision that every welding helmet gives. The 3m speed glass welding helmets provide a view with more original colors that make work easier and comfortable.
The Welding Helmet also offers two preset modes of auto-darkening in which light-to-dark switching sensitivity and different shades as well. The helmet is also very power efficient as it shuts off automatically when not in use to save battery life.
Also Check Best Welding Gloves
Furthermore, you also get five sets of shades from 8-13 to choose from. Such a range enables welders to work on different welding processes such as MIG and TIG. For work comfort, the weights are distributed equally through the headgear for better stability and more comfort.
What are customers saying?
"I can't say enough good things about this helmet. It's comfortable but I have a hard time keeping it adjusted to my head where I'm not always tightening the knob in the rear."

— customer quote
Positive
Side windows for a broader view
External grinding mode
Automatic battery saver
Negatives
It is a bit heavier than other welding helmets
Hobart Impact Variable Auto-Dark – Best Welding Helmet For MIG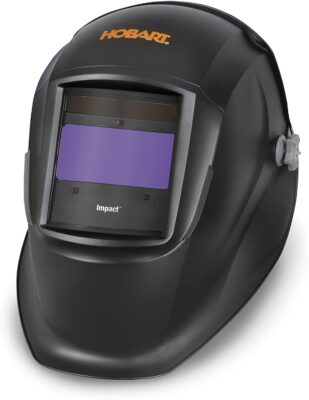 The Hobart 770756 has one of the most outstanding features you can find in a welding helmet. You can depend on this equipment in every sort of condition without worry. The helmet is loaded with three arc sensors for auto-darkening.
That means light detection would only take a couple of small seconds, and your work will be efficient and productive.
The Hobart is one the best helmets for MIG welding as the auto-darkening in this helmet is very reliable and fast. Every time the arc begins to flash during welding, this helmet will always protect your eyes as the helmet is designed with LCD technology that protects your eyes.
Features
It has a very lightweight body design that keeps your head stress-free and comfortable at all times. And in times of high temperature and heat, you will find yourself comfortable without the sweat falling onto your viewing lens at any time.
What makes the Hobart impact a very excellent piece of equipment is its wide range of shades. You can adjust shades between the range of 8 to 13, which means you can work in lowlight under any conditions put forward during your work.
And let's not forget its split-second reaction time during the auto-darkening mode. Which detects light in a split second and adjusts the helmet for welding and for viewing efficiently.
Hobart is a suited MIG welding helmet, and a lot of welders prefer it over many top contenders.
What are customers saying?
"It works exactly as described, lightweight and comfortable. Battery check for safety and fast darkening speed"

— customer quote
Positive
High-speed auto darkening
Lightweight and great ventilation
Negatives
Lightweight and great ventilation
Miller Electric – Best Welding Helmet For the Money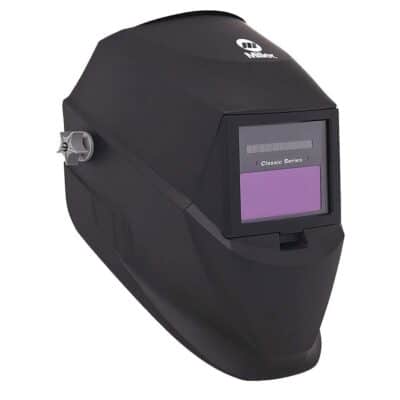 Whether it is a DIY project or an industrial work, a welding helmet is necessary for safety and a better job. The Miller Electric Welding helmet is no less of an excellent auto-darkening helmet.
With such outstanding features, you cannot find a better welding helmet for the price it gives. Miller Electric is a pillar in the welding world, producing machines and equipment that are top-notch.
This model is no less of a masterpiece. It makes work very comfortable and easy. It has a nylon construction and a very lightweight, making it so comfortable to wear for hours without having any stress on your head.
Build quality
Although it is made up of nylon, the helmet is pretty durable and can withstand a lot of pressure. The helmet has electromagnetic sensors that monitor any linear change during welding and can adjust according to it.
Furthermore, with its additional arc sensors, welding becomes a lot safer, reducing any eye strains.
Features
The helmet has a range of different auto-darkening lenses that you can adjust at a higher temperature. Furthermore, it has a large viewing area of 5 â…• inches that can also make awkward angles clear and visible.
Another unique feature that the helmet contains is its digital headgear console, through which you can adjust your helmet for different cutting functions.
The helmet is also very efficient in saving power which is all thanks to its auto-on/of a button that saves electricity when the helmet is not in use. And with its high-speed lens, if there are any signs of accidents or slip-ups, they are immediately prevented.
What are customers saying?
"This is a decent welding helmet. remember to hit the reset button before starting to or resuming welding to avoid getting flashed."

— customer quote
Positive
Power-efficient
High-speed lens
Large field of view
Jackson Safety 46131 – Best Beginner Welding Helmet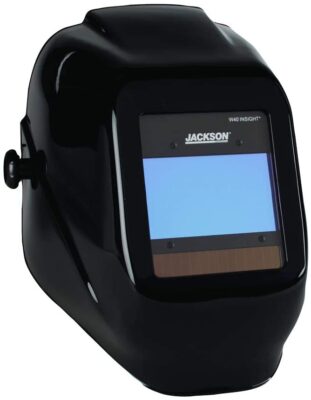 Jacksons have an extensive history of producing a series of quality equipment in the welding industry. The Jackson Safety headgear is a perfect welding helmet for beginners. Its price is also in the mid-range, and its features are easy and comfortable to get the hang of.
The Jackson offers a perfect viewing area of 3.92 x 2.36 inches, which provides a clear and unobstructed view at all times. Such a wide viewing area is ideal for controlling your welds with more focus and ease.
It has an easy-to-use digital control panel through which you can adjust the helmet according to your preferences. Furthermore, it has a very lightweight body, making it super comfortable to wear without removing it while working.
Auto-darkening features
Its auto darkening feature is what makes the helmet a competitor in the professional market.
The helmet offers a variety of shades ranging from 9 to 13. Apart from adjusting your shades, you can adjust delay adjustments and sensitivity for different processes and tasks. Another great feature of theJacksons" welding helmet is its grind mode.
You can switch from weld mode to grind mode without removing your helmet for different purposes. The helmet provides all the safety features that are necessary and is a very reliable piece of equipment.
What are customers saying?
"Light weight, auto darkening works perfect.. used it for stick, mig, and even tig at 20 amps with no issues"

— customer quote
Positive
Best optical clarity
Good head adjustment
Negatives
It is not comfortable to wear for long
8. Jackson Safety 20508 – Best Passive Welding Helmet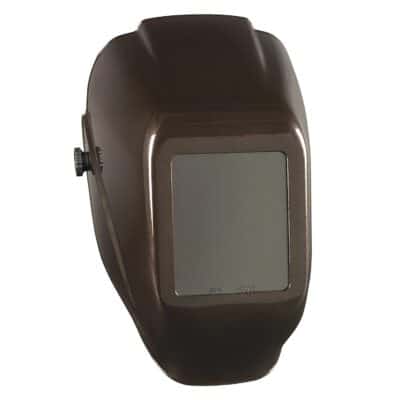 A lightweight manual welding helmet is a rare one to find. The Jackson safety welding helmet features a lightweight design that will never cause any stress on your neck.
We often see how manual helmets can be heavy and hard to deal with. But with this Helmet, your comfort would never be any less. It was undoubtedly the best value welding helmet in our experience.
Features
An essential feature that makes Jackson a top passive helmet is that it stays up well when you flip the helmet. It locks onto the top of the pivot and stays there. And you can drop it again quickly with just a slight nod.
The helmet has a wide viewing area allowing you to see through angles where the helmet itself cannot fit. Welders often praise the headgear as one of the most comfortable passive helmets in the market.
Welders believe that they have less fatigue while wearing the Jackson welding helmet all day than many other passives helmets. It is efficient and economical. Fitting in line with all of the basic safety measures to keep your face and eye safe from danger.
What are customers saying?
"This is the bare minimum needed to get started. The glass is #11 darkness. The head strap has to be adjust every time I put it on. But it is a good mask for observers to wear while at a distance. Really not for the power user."

— customer quote
Positive
Lightweight
Very comfortable to work on
Large field of view
Negatives
Not as durable as its previous models
Thin, flimsy shell
Buying Guide For Best Welding Helmet
Here are some essential features you have to keep in mind before buying a welding helmet.
– Viewing Area of Hood
Some helmets have narrow viewing areas, and then some helmets have wider ones. But if you have used a helmet with limited vision, you must know that it is tough to focus on your welding.
Especially from different angles, which make welding a bit unclear and out of sight. Not just this makes your work frustrating, but it also hinders your productivity. There are brilliant helmets in the market with a large field of vision, such as the Lincoln 3350.
With a larger field of view, you can be welding lets with a bigger and clearer view of your welds. Working from narrow and awkward angles also becomes much better.
This helmet makes your work a lot more productive and easier as you can find more detail on your welds with such a broad view available.
Although I agree that having a narrow field of view makes focusing a lot easier when you are welding, you have to be keen on your surroundings to have much more control over your weld. So when you go for a welding helmet, make sure it has a more extensive field of view that will always make your work comfortable and more straightforward.
– Auto Darkening Welding Helmet
The most crucial feature in a helmet these days is the Auto-Darkening lens. If you have a standard helmet that doesn't include an auto-darkening lens, that means you are outdated, and your work would never be productive.
Without an Auto Darkening lens, your welding can be troublesome and tiring. So stay up to date with the technology and invest in a helmet that can make your work productive.
– Reliability of Welding Hood
No matter how many features your helmet has, no matter how much comfortable it is to wear. Unless your helmet can safely protect your eyes and face from welding, it cannot be counted as a good welding helmet to use.
During welding, many sparks and radiations are produced that are very harmful to your eyes and your skin. If your helmet cannot contain these sparks and radiations from reaching your vision, you might face trouble.
Helmets have safety features and sensors that automatically adjust to shades that can keep your eyes safe during different conditions. You need a helmet that can guarantee your safety. An unreliable lens or a faulty mask can cause problems.
Your skin can be exposed to heat and radiation, which can cause cancer and other serious injuries. Buy a helmet that is comfortable to wear and a helmet that has features and qualities that can safeguard your protection.
– Clarity Of Helmet Lens
Apart from having a helmet that has a wide field of view, clarity is also vital for quality welding and safe work.
If your lens isn't clear enough, your work can be improper and inadequate in quality. In terms of crystal clear clarity, only a few helmets reach the score of 1/1/1/1 clarity. That includes the Lincoln Viking, which is the best overall helmet on our list.
Having a good clear vision is essential and can increase the quality of your welds by my folds. A clearer image can also reduce eye strains as you won't have to focus too much to weld. So buy a helmet that has a good clarity score.
Why To Think More For Best Welding Helmet ?
A lot of people are deceived by the perception that they must spend a heap of money to get high spending to get a good quality welding helmet. But that's not the fact in reality. You can get a durable and inexpensive helmets available out there.
There is a myriad of models available out in the market that can serve you well to keep you safe from harmful radiation. Especially if you're a beginner and don't want to invest more in the product but want to make the most out of your purchase.
Final Words On Best Welding Helmet
So now you have a clear idea of the pros and cons of each type of welder, as well as the guidelines to choose one. It is time for you to step into the market confidently and add the best helmet to your cart right away!
Welding Helmet FAQ's
1. What is the Best Auto Darkening Welding helmet?
The Lincoln electric K3034-4 is the best welding helmet you can get. It has one of the most excellent features that you cannot compare with any other helmet in the market.
From its broad view of range to its high-speed auto-darkening lens, Lincoln 303 is the best welding helmet you can get.
2. What is the best welding Helmet?
The Yeswelder Solar Auto Darkening Welding Helmet is the highest-rated welder on our list. It has such features that make welding a lot better and productive. Its lightweight and true color technology make welding more comfortable and easier to do.
3. Who Makes the Best Welding Helmet?
Lincoln Electric is known for making one of the best welding gears and welding machines in the market. And there is no surprise that the welding helmets that have been produced by Lincoln electric are a work of art.