If you're in the market for a new MIG welder, you don't have to spend a lot of money to get a quality machine. In this blog post, we will discuss top 8 best MIG welder under $1000. These welders are perfect for home use or light industrial work. They are all high-quality machines that will help you get the job done right. So, if you're looking for an affordable MIG welder, be sure to read this blog post.
Our recommendation
However, the market is big and finding a suitable welder can be challenging. Whether you're low on budget or on a pocket limit, don't panic! Our team picked the best MIG welders under 1000 dollars for you. Start with the top pick Hobart Handler 210 below and check our reviews.
What to look for when buying MIG welder under $1000
Finding a welder that is inexpensive and top quality is not a piece of cake. You need to consider factors like wire feeding and duty cycle while staying within budget. Through this article, you will find welders that are suitable for beginners and professionals alike.
Best MIG Welder Under $1000 Reviews
Input power
features
max output

Hobart Handler 210
Our top pick
Check Prices
features
7 Different voltage settings

Weldpro 200
Professional
Check Prices
features
All in one welding machine

Forney Easy Weld 261
Budget pick
Check Prices
features
Infinite Voltage Management
Input voltage
features
max output

Lotos MIG175
Check Prices
features
Spool gun for Welding Aluminum

Lotos MIG140
Beginners choice
Check Prices
features
Adjustable Feeder Speed

Lincoln Electric Easy MIG 140
Budget choice
Check on NorthernTool
features
Welds various metals
Overall Best MIG welder under $1000
Hobart Handler 210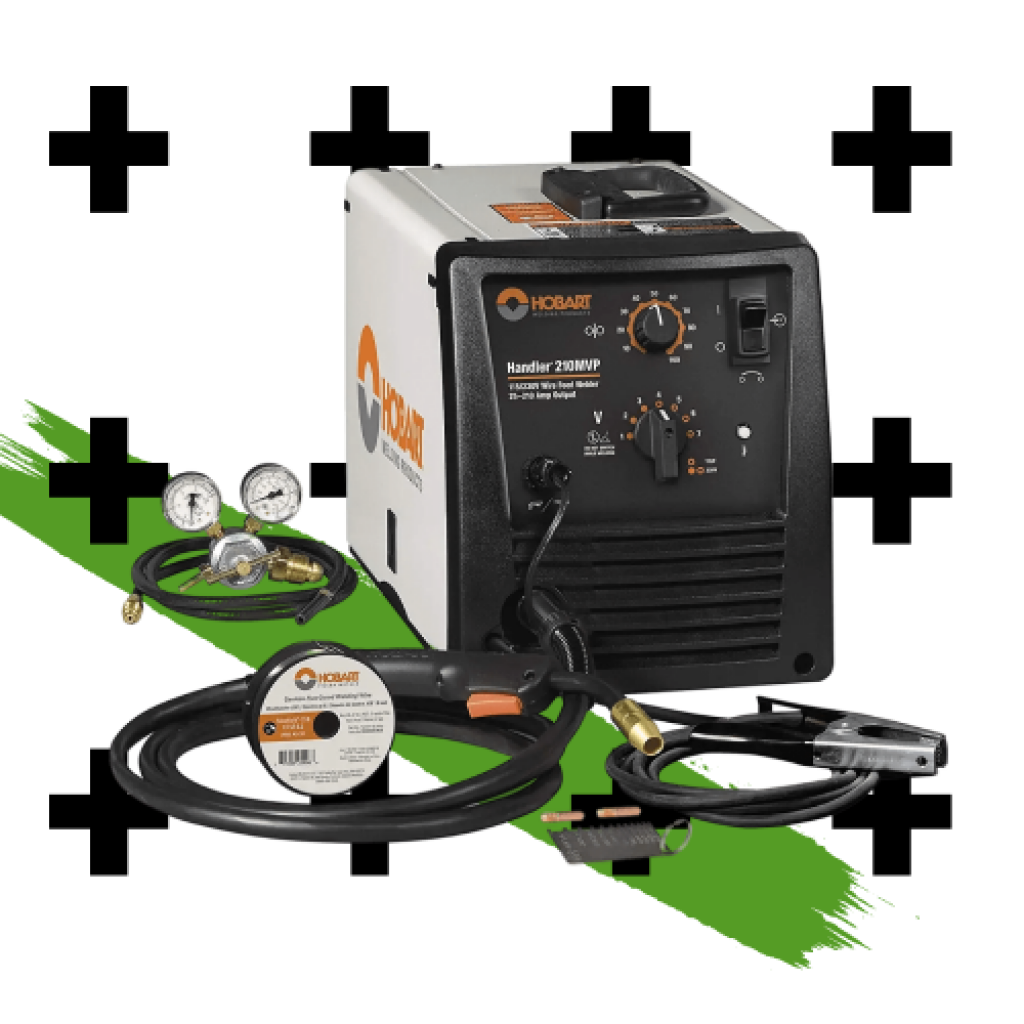 Manufactured By Hobart Welders
Input Power: 120/240V
Duty Cycle: 30 % @ 150 A
Welding Process: MIG Welding
Special Features: MVP Plug & Dual-voltage feature
Positive
User friendly
Highly versatile and can be used for different projects
Variable voltage settings
It comes with an MVP plug
Negatives
It is a bit heavy and not easy to carry
The Hobart Handler 210 is for sure our Top pick from the list. It is a powerful and versatile machine that is meant for quality welds only. Yes, the device could be a bit expensive compared to other welders, but the quality it provides is incredible. Hobart Handler is our top pick for under 1000 MIG Welders.
Build quality
What I like about this product is its compact size. Although it weighs around 79lbs, the Hobart handler does not take up a lot of space and can fit easily inside your truck. Even if you are a beginner with little knowledge about welding, you can use it with ease.
The Brand Hobart is known for producing great budget MIG welders. And the Hobart 210 is their most successful Welder ever. With a high Output of 210 A, you can look forward to large projects.
With the Hobart 210, you are guaranteed quality welds and high-profile work. The Welder weighs around 79lbs that makes it difficult to carry around. But apart from its weight, every other thing that the Welder offers is huge.
Features
With a high output of 210 A, you can expect your machine to weld hard and thicker metals. For more precise welding, it offers you seven different voltage settings.
With such a heavy input of 230V, you are looking at a power-packed machine. With a duty cycle of 30%, 150 A, you weld auto bodies, constructions, and doors. Another prominent feature is its infinite wire system, through which you can attain maximum arc performance.
What are customer saying
"This welder is very powerful for home use, very adaptable with the dual voltage. easy to use with the optional spool gun to use for aluminum"

— customer quote
Top Professional choice for MIG welder under $1000
Weldpro 200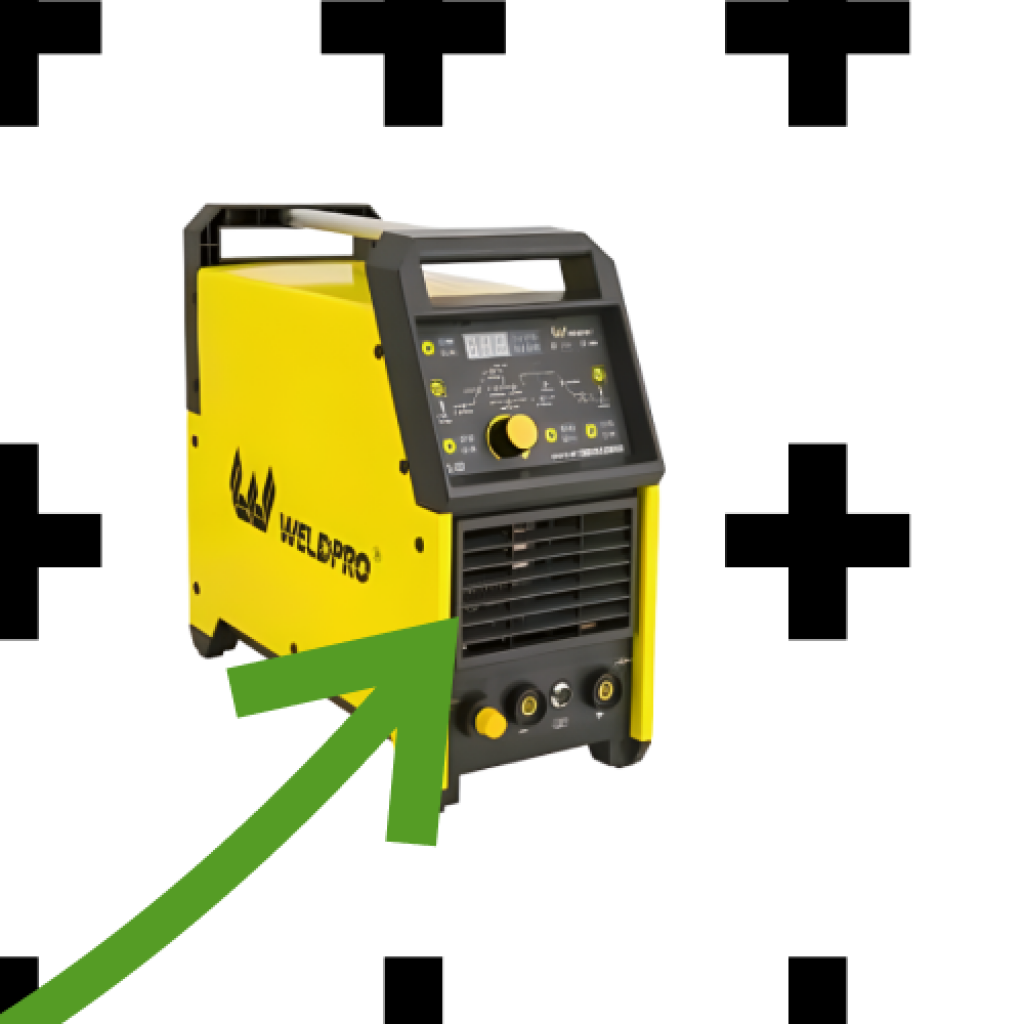 Manufactured By Weld Pro
Input Power: 220V
Duty Cycle: 20 % @ 200 A
Welding Process: FLUX, MIG, TIG , STICK
Special Features: Large digital display & Thermal overload protection
Positive
Can be used for three different welding process.
It is a mighty machine
Easy to use
If you are a beginner who is looking for a solid underbudget welding, then the Weldpro 200 might be your perfect companion. The machine offers everything that an entry-level welder requires. Furthermore, it has qualities that provide output beyond entry-level as well.
The Weldpro 200 is an all-in-one welder. Meaning it is not only restricted to MIG welding. You can use the machine for different processes like TIG, STICK, and FCAW. With such a reasonable price, a beginner can set their pace on welding.
Who is it for?
It is versatile and ideally portable. Meaning you can carry it to places for different jobs. The high input and output numbers that this machine has made it a good one for professional use. The price makes it an excellent welder under $800.
Also Check Best MIG Welder For Beginners
The WeldPro 200 is a mighty machine that is not only suitable for beginners but also professionals. With an output of 200A, your device can be welding quality work and is suited for high-scale projects such as constructions.
Features
With the input voltage of 220 Volts, you can weld up to ¼ inch thick mild steel. Furthermore, with the option of switching to different categories of welding, your work is not limited. You can weld in TIG, FCAW, or stick, depending on your choice.
With a large LCD switching to different options of welding, you can set up quickly. Moreover, the machine weighs only 30 lbs making it easy to carry around. With an IGBT inverter technology, your machine is meant for high-power work.
What are customer saying
"Likes: performs well, well made and easy to use. Dislikes: front display panel seems a little cheap, loose and wavy and not stuck down properly."

— customer quote
Budget pick for MIG welder under $1000
Forney Easy Weld 261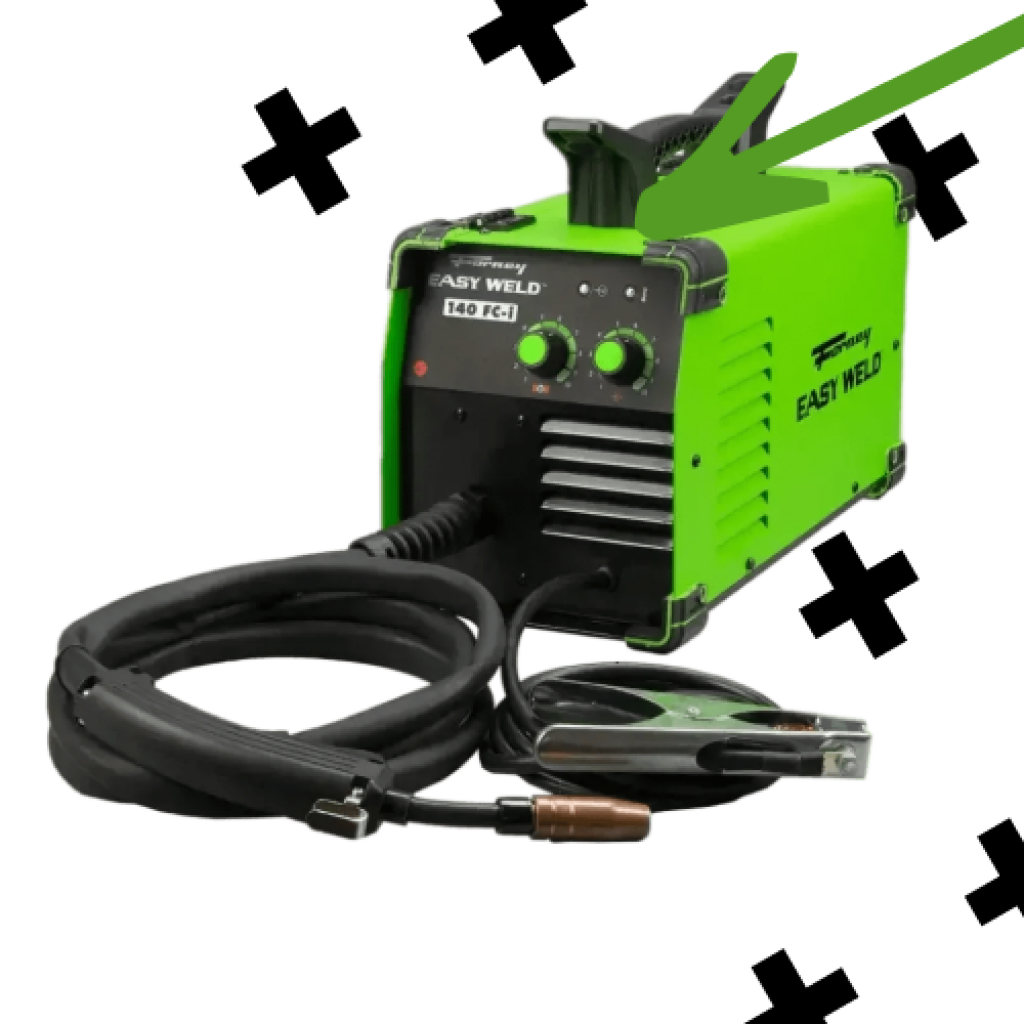 Manufactured By Forney
Input Power: 120V
Duty Cycle: 30% @ 90 A
Welding Process: MIG Welding
Special Features: Welds metal that is up to ¼ thick and Works at 120 V and 140 AMP
Positive
Lightweight and easy to carry
Can run on average home power
Infinite wire-speed management
Negatives
Flux-core can be tricky to run
Our list would surely be incomplete if we did not mention one of the most quality welders for less money. The Forney 261 is not a very powerful machine. It doesn't have a high amperage range or a significant input. Still, it gives such a meager price for what this Welder offers.
The Forney 261 is known to have one of the best duty cycles. That means you can work on your weld for a reasonable amount of time before having to reset. The Welder can be easily carried and operated as it has very lightweight.
Guarantee
Forney Welders are backed by a full one-year guarantee. So you can take your time in testing this machine to the fullest. The Forney 261 is probably one of the best MIG welders you can find under $600.
Output
The Forney 261 is a tiny powerhouse. It weighs only 19 lbs making it easy to carry around. This machine can generate up to 140A of output. Comparing its price with many others, you see that no machine provides such an enormous output as this.
With output like 140A, you can expect it to weld some quality metal. You can weld many steel alloys without a problem. Also, it can weld metal that is up to 1/4th in thickness. It has one of the best duty cycles in the marketplace of 30 % at 90A.
Who is it for?
Apart from power, it offers infinite wire management, making work more efficient. With its small size and weight, it is perfect for indoor garages and workplaces. Moreover, you can weld metals like cast iron, copper, steel alloys, and mild steel without any worries.
What are customer saying
"It is amazing what kind of heat a small welder can produce. I haven't tried to go really low with this welder, but the upper end "yes sir". I believe this machine would weld 1/2″ with ease"

— customer quote
Professional pick for MIG welder under $1000
LOTOS MIG175
Manufactured By LOTOS
Input Power: 220V
Duty Cycle: 20% @ 175 A
Welding Process: Flux Core & MIG Welding
Special Features: Aluminum Wire feeder & Flux wire welding
Positive
Comes with a facemask and other accessories
Welds a variety of material
High power efficiency
The Lotos MIG175 is our top professional pick. This machine only comes in second to The Hobart 210 in terms of the quality and power it provides. Also, the Lotos MIG175 is one of the best-preferred welders for metal like Aluminum.
It is powerful enough to weld almost any metal out there in the market. Although its portability is restricted, the features it offers on hand are impressive. It is a suitable machine for beginners to start their welding experience.
Who is it for?
Furthermore, DIY creators and Hobbyists can also have a perfect time working on this machine. With an input of 220V, your welds would be immaculate with high-quality outcomes. You can also use the Welder for FCAW welding.
The essential quality of this product is its cheap price tag. It feels unreal to believe that you are getting such a powerful welder in under $600 only. We think you cannot find a better inexpensive MIG welder in the market.
What can you weld with it?
With the Lotos MIG175 welding aluminum and stainless steel regularly won't be a problem. With such an output power of 175A your machine is meant for welding hard metals. The device has a duty cycle of 20 % at 175A which is impressive.
With the help of Lotos MIG 175, weld deep metals as the machine has a brilliant penetration capacity. Also, it can handle up to 1/4″ thickness of aluminum welds with the proper gas supply. The machine runs on 220V, which makes the Lotos favored for professional work too.
What are its drawbacks?
The only issue with the Lotos MIG175 is its portability. To make up for that, The Brand LOTOS provides you with all the necessary accessories needed to work on the highest welding level.
What are customer saying
"Awsome product for the price, 15 minutes out of the box i was stacking dimes in 1/8th aluminum plate, wish this had a two stage trigger instead of just the single so you could flood the area with gas befor you strike a arc"

— customer quote
MIG welder under $1000: Ideal for beginners
LOTOS MIG140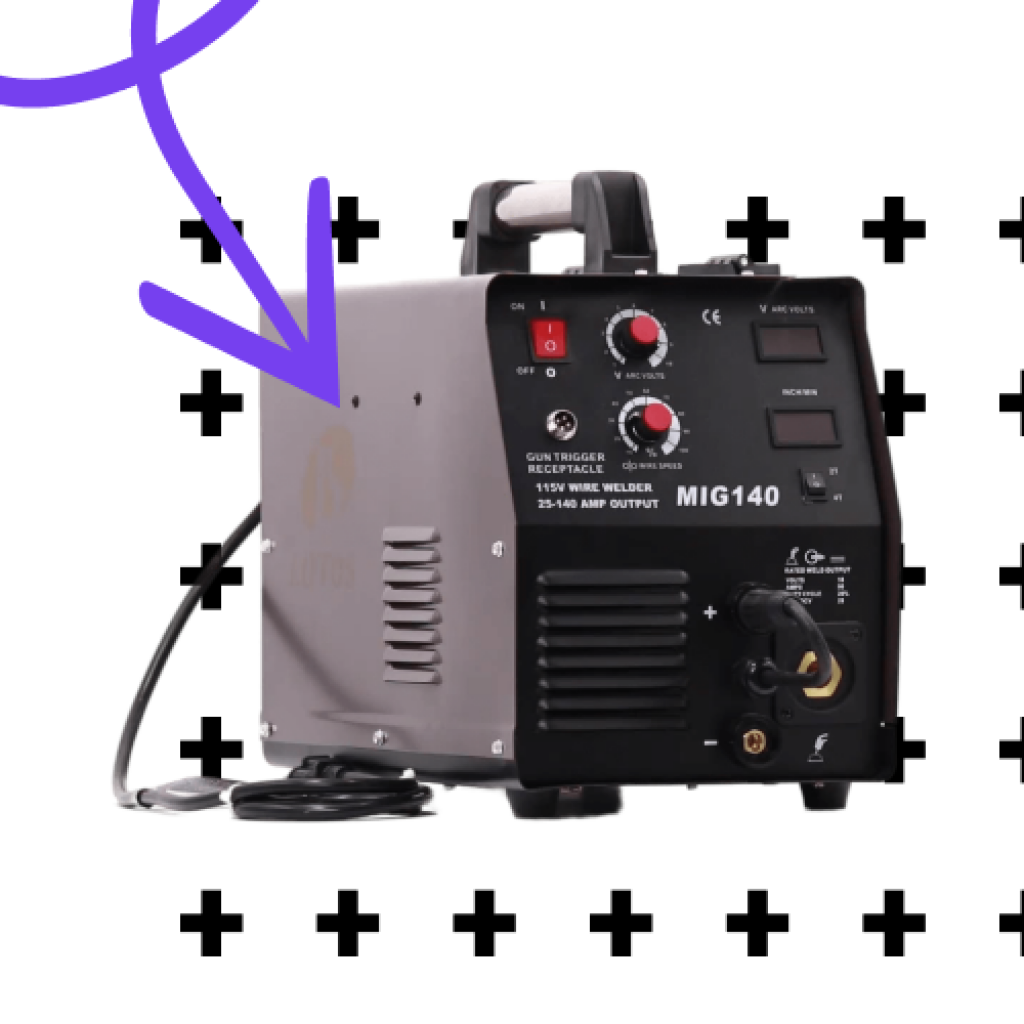 Manufactured By LOTOS
Input Power: 110V-120V
Duty Cycle: 20% @ 140 A
Welding Process: MIG, FLUX CORE
Special Features: Adjustable Feeder Speed & Welds Multiple Metals
Positive
Ideal wire feeder
Durable with a strong frame
Strong internal built
Lengthy wire ranges
Negatives
Low duty cycle
Not ideal for professional use
This pick is an ideal MIG welder for beginners who are searching for an easy-to-use, high-quality machine. This one has no match in quality since it is the best update by LOTOS in the market.
Features
The MIG140 contains an aluminum wire feeder that eases the process of loading the wire. Moreover, with wire feeder speed adjustments, you can easily make this Welder suit your need. You can precisely set the welding volts right before you start working.
Weld Stainless or mild steel in no time and with no worries at all! With a 3/16″ 24 gauge welding capacity, you can weld at home or the workplace with superior speed. Thus, we categorize this as the Welder with the best value for money.
See Also Best MIG Welder Under 500
What can it weld?
The MIG140 supports solid steel wire of 0.6 to 0.8 mm thickness and flux-cored wire of 0.8 to 0.9 mm. its wire feeding system is the biggest attraction of this machine. We recommend it to homeowners who need a welder for their basic needs.
It would take you less than 10 to 15 minutes to set up this master MIG welder. It is portable with a comfortable handle to offer a perfect grip. The digital display makes adjusting or changing parameters even more accessible and effortless.
Excellent durability and flexibility in use
The 2T/4T switches are available for increased flexibility. Also, you can expect this welder to last a pretty long time. It is durable with strong built and delicate manufacture. In durability, this product is rated highest among all our picks.
What are customer saying
"Works as good as my Lincoln did. Only complaint is where the gas hose connects. When connected the line sticks straight out the middle of the back of the unit, hitting the gas bottle while mounted on a welding cart"

— customer quote
MIG welder under $1000: Budget pick
Lincoln Electric Easy MIG 140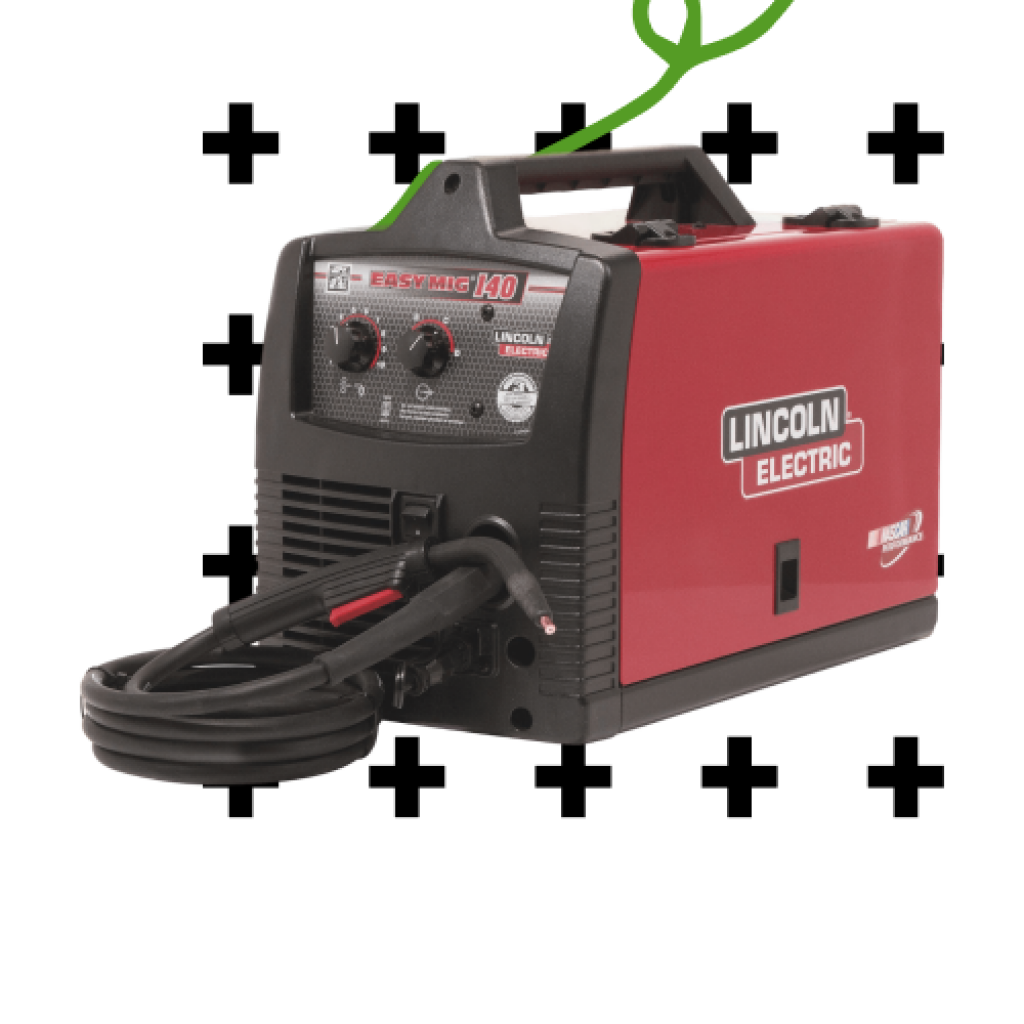 Manufactured By LINCOLN
Input Power: 120 V AC
Duty Cycle: 20A @ 20%
Welding Process: MIG, FLUX CORE
Special Features: Minimum spatter & Welds various metals
Positive
Good value for money
Stability in performance
Affordable for homeowners
Negatives
Complains about body frame
This product offers maximum protection from spatter and is a high-quality pick from Lincoln. Though it isn't an excellent professional-level partner, it can still prove incredible for your household needs. Weld Stainless or mild steel, or even light Aluminum with ease!
The Lincoln MIG140 is among our highly rated budget MIG welders. The output range is 30 to 140A, which is quite an extensive range. The brass-to-brass gun connection proves to be a massive advantage of this machine.
The wire system and drive of this Welder are ideal and offer smooth performance. Therefore, one thing's for sure: you will not face complaints regarding the performance stability.
Features
This machine is flexible, and not only is it rated high for flexibility, but also easy switching methods. Therefore, you can easily switch between flux core or MIG welding to between different levels of wire thicknesses.
Who is it for?
This is a feature that most homeowners and professionals both require. So next time you feel you're good at MIG and need to learn flux-core, or vice versa, go on!
This pick is certainly one that we classify as an excellent value for money. This is because such a nice amount of features are offered for even less than a thousand dollars.
What are customer saying
"Upgraded to this setup because I wanted a cover gas. Welder worked great right out of the box using the flux core wire and worked even better after adding the cover gas and solid wire. Worth it."

— customer quote
Top big MIG welder under $1000
Forney 318
Manufactured By Forney
Input Power: 230V
Duty Cycle: 25% @ 120
Welding Process: MIG & FCAW
Special Features: Aluminum cast diving system & Flowmeter and goose hose included
Positive
Parts are easily replaceable
Great for industrial work
High duty cycle
Negatives
One cannot use it to run through a generator
Not very portable
Compared to the other models of Forney welders, This machine has more welding capacity than any. It is pretty powerful and is rated as one of the top big welders out there in the market.
A MIG welder for professions
If you are professional and you are looking for a machine with greater Amperage, we surely recommend this one. This expert-level MIG welder comes with a fast torch, spool gun compatibility, a longer power cord, and a very ideal aluminum cast drive system.
If we compare it to Forney 261, this model is far more powerful and bulkier. Hence, it is suitable for Professionals. It welds thicker metals with the option of using flux-core welding. The Welder comes in the same line as MIG175 and provides powerful output capacity.
Features
The Forney 318 is a very powerful welder that you can use for welding quality material thicker and more profound. With its 190 Amperes of high output, you can easily weld material with a thickness of 1/4 inches.
What can it weld?
You can weld metals like steel, stainless steel, and Aluminum by using the Forney 318. You can weld heavy material through this machine because of its cast drive system, so this machine is very suitable for doing tough jobs.
Forney 318 also has a high duty cycle of 25 % at 120A. The machine is durable and lasts a long time for more challenging jobs. The only issue is portability, and it weighs around 74lbs. For carrying it, you might need a cart.
According to our price range in this article, Forney 318 is an excellent economy MIG welder.
What are customer saying
"Out of the box , Hook it Up & Weld . The only negative , is there is No Off & On switch ? I would've Perfered it With 1 . The Heat Range switch Works Fine , But seems to Me an Off & On switch would be Perfect"

— customer quote